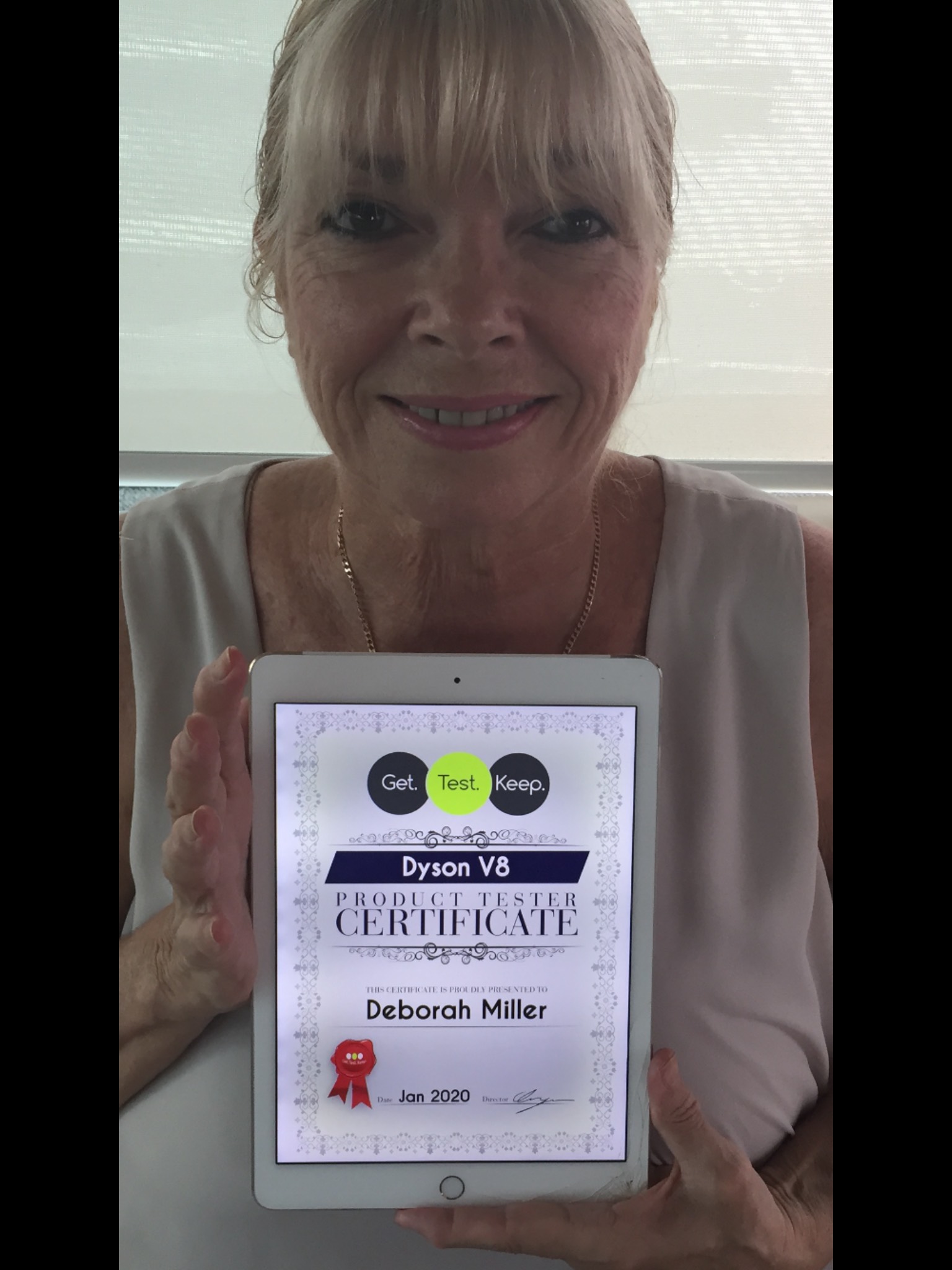 Dyson Cyclone V10
Debbie Miller
8 Feb 2020
I've owned a Dyson cordless stick Vacuum for
For about 5 years now but I've been ready to upgrade as my existing one got water into the engine part.
The first thing I noticed about this model when
Unwrapping it was the much bigger dust bin.
I was always having to empty my old one quite a few times when doing bigger areas, but with this new V10 model I was able to do all the downstairs living areas, carpet and tile!
The dustbin wasn't as easy to empty as I had to take the stick off, once I realised that, it wasn't really a problem.
I also loved the fact of the 3 levels of power and found maximum to be very powerful and no louder than my previous Vacuum stick.
This Dyson Cyclone V10 Motörhead model is a little heavier but so much easier than my corded Vacuum.
I found the head better too, as it did not get as tangled with hair as my old one did, we all have long hair and I was constantly having to stop and get rid of hair, so this is a bonus with the V10!
The power of the Dyson Cyclone V10, picked up most things on the floor, with me only having to run across a couple of Areas twice.
So for me this cordless stick seems strong enough and will be superseding my corded Vacuum.
I will be wall mounting the charger in the laundry as it takes up very little room and is very easy to put up and take down!
On full charge the battery does have a longer life as I was able to vacuum the lounge,dining,
Kitchen, TV room and hall on low power and still had some charge.
I'm a fan of The look of Dysons stick vacuums
As I love all the streamlining they put into their products!
I'm extremely happy with my new Dyson Cyclone V10 Motörhead cordless Vacuum and I would highly recommend it to my friends and colleagues.
I would rate this 5 stars
Debbie Miller
Gold Coast, Qld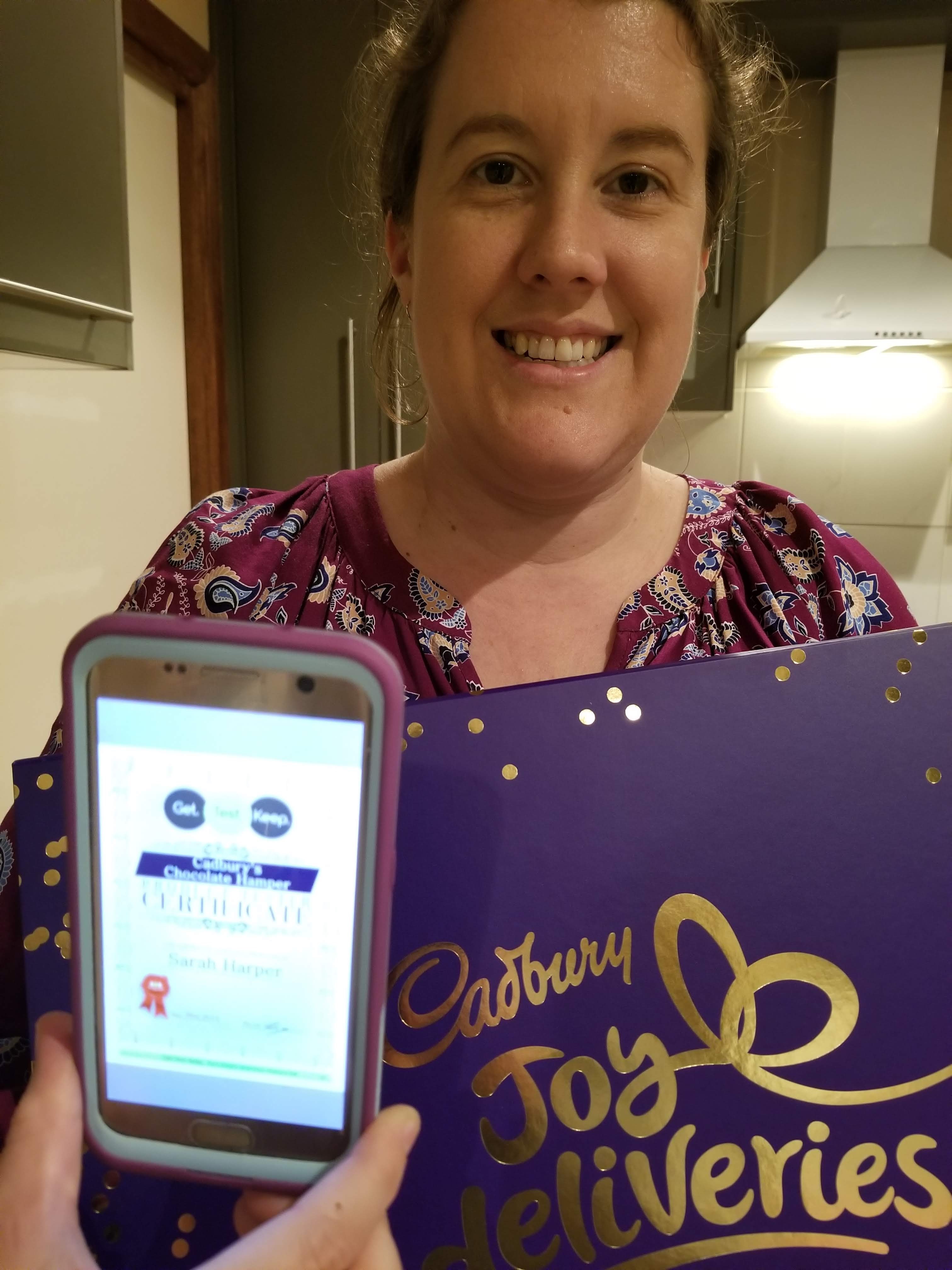 Cadbury's Hamper
Sarah Harper
16 Jun 2018
I received your email regarding the Cadbury Hamper on 13 June 2018, to which you ordered it straight away.
I then received the hamper only 2 days later on 15 June 2018.
There wasn't anyone home but the postman left the hamper in a safe place.
It was in a big box with delivery instruction on the front. It was left the right way up and when I opened it the contents did not seem to have moved to much.
The actual purple hamper / box that the chocolates come in is very nice. Well made and I like the brightness of it.
Inside it was purple tissue paper under the items and 2 of the items were wrapped in a ribbon.
The hamper is bigger than i expected.
There is an assortment of different chocolates in the hamper. There are 5 classic Cadbury blocks of chocolate which were all quite different. 1 plain chocolate, 1 Oreo, 1 caramelo, 1 hazelnut and 1 dark/milk block. I like that there is a range of different sorts.
There was then 4 smaller 50gram bars with snack, marvelous creations, fruit & nut and a milk/dark.
There was also a box of chocolates with an assortment of 16 different filled chocolates.
If you were purchasing this as a gift or for a work place etc, there is definitely a wide variety of chocolates.
The quality of the products are fantastic. I can't fault it. Very yummy.
I would rate it 5 out of 5 stars.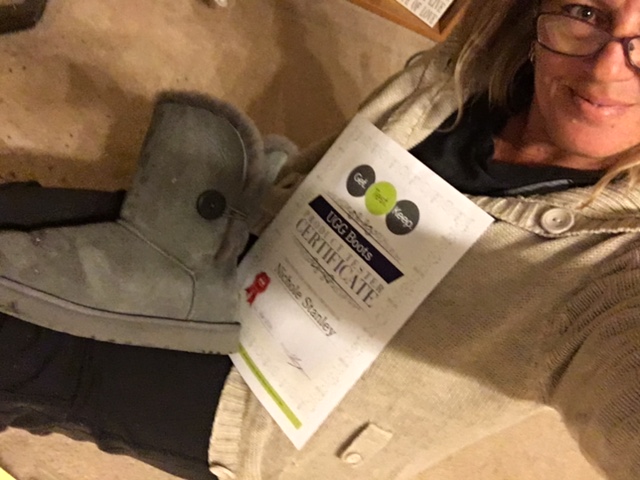 UGG Boots
Nichole Stanley
1 Jun 2018
I'm Nichole Stanley and I was chosen to review some UGG boots. So here goes.
I received my email of notification from Get, Test, Keep on Friday 27th April 2018 ( woohoo I won I won I won!!). Sent to myself from a patient, accomodating, completely helpful, happy and engaging lady -Tania Walker. All of the information contained in the email was easy to understand and directions easy to follow.
My address was confirmed. ( how long? How long? How long? Poor Tania ) Firstly size, style, colour. After about 8 attempts and feeling a bit depleted I left the details to Tania. Who did an amazing job organising me some UGG boots.
Tania relayed that the UGG boots were ordered on Wednesday 23rd May 2018.
Bailey Button ii in grey.
Two days later Friday 25th May 2018 and my lovely mail lady was honking her horn in my driveway. What a nice surprise on my day off. ( woohoo woohoo its here so soon. Show me show me ). Ok slow down take photos. Already ordered everyone in the house do not touch!
Packed in a plain box with great identification in a large UGG sticker. Inside was a shoe box also easily identified. Invoice and thank you postcard. That was nice. So that's what I got easy to see and read all labels. Nice and neatly packaged so as to guard from any damage. Structural supports in the leg of the boots and something that keeps the shape of the toe. Chunky sole, soft to touch.
Put your foot in, dare ya.
O. M. G. Perfect fit. So , so soft, lush, Devine.
Soft and squishy underfoot like walking in clouds.
I melted into the first Bailey Button ii UGG boot and smooshed around sinking into its lush genuine sheeps wool. Oh my. Never taking them off.
Shin height easy to tuck pants into or leave out. Loose fitted sides can be rolled down or worn high. Thick chunky sole great tread. I live on a vege farm so lots of dirt. They absolutely pass the outdoors test. Cushioned sole soft on the feet inside. Great stitch work, no rough seams. Large UGG motif button attached extremely well on the outer side of the boot. No messy stitching or puckers in the sheep skin. No excess glue reside on boots. Great shape.
It's now Friday 8th June 2018. I've had my Bailey Button ii UGG boots for two weeks and have had them on from the moment I sit up in bed till I go to work.
My UGG boots are the second thing I do when I get home. Petting my dog is the first. By the way they mustn't smell of sheep as he hasn't tried to eat or pee on them.
My Bailey Button ii UGG boots are on my feet every available minute. Lush. Dirt has not stuck to them. I'm surprised as I said, farm, dirt. The tread has not worn at all and they are still as soft and snuggely as the first time. If only I could wear them to bed. Maybe?
I easily give my Bailey Button ii UGG boots an overall star rating of 5++++++ extremely excellent.
Thank you Get Test Keep for a wonderful suprise and opportunity.
Thank you Tania Walker for a easy, friendly transaction.
Thank you UGG boots for my awesome, soft, durable, amazing.
Bailey Button ii UGG boots size 10 in grey.

A note from GTK - we had several issues being able to locate the required UGG boots in the required size hence why it took a while to find a pais that were the right size, style and colour, but eventually we found a pair for Nichole.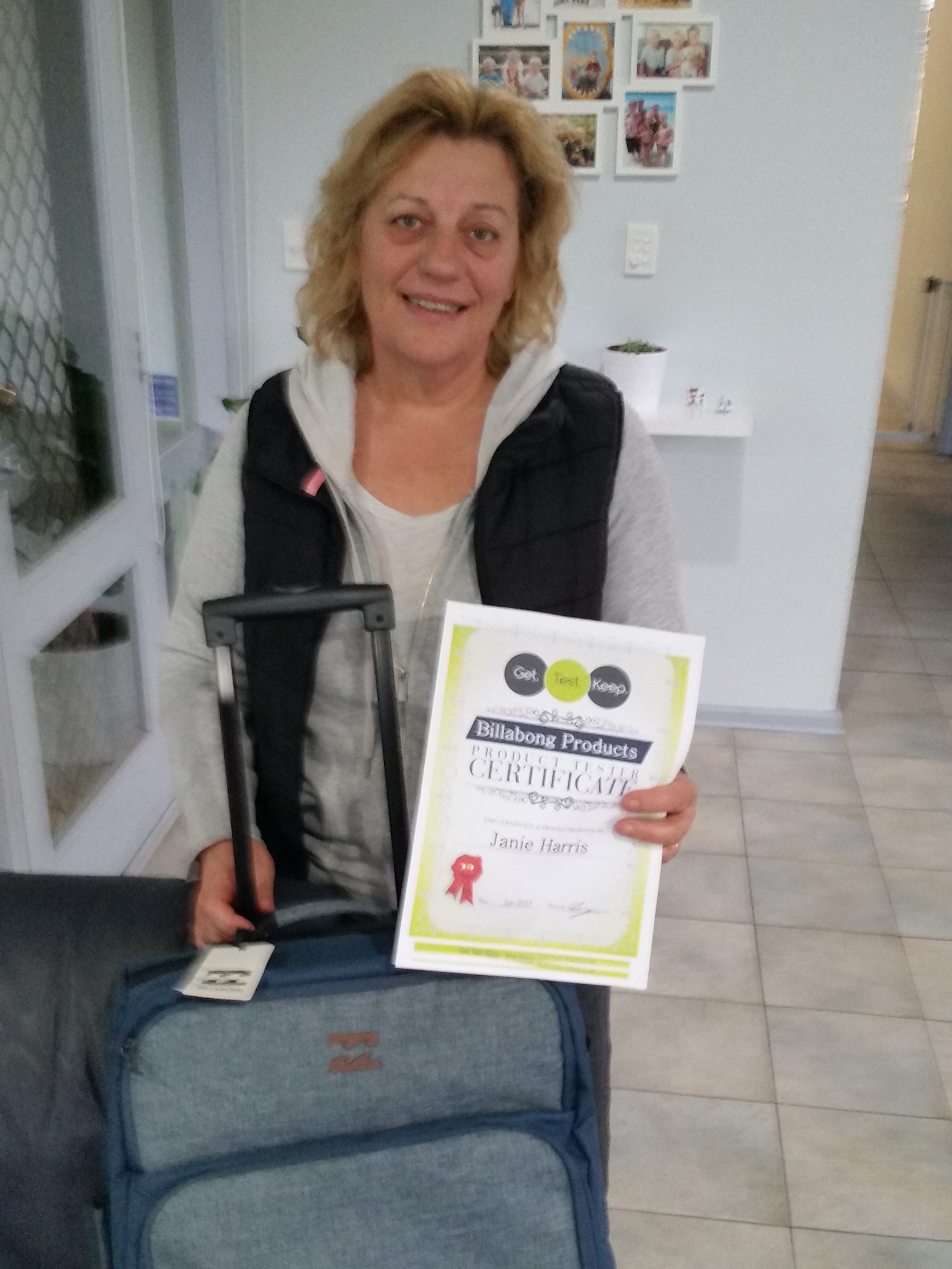 Billabong products
Janie Harris
21 May 2018
Communication has been very good with GetTestKeep team. I was notified by email.
I purchased my product with money as there was a problem with living in Australia and receiving either the product or a voucher.
I absolutely love my weekend case – it complies with hand luggage regulations for travel by plane and is very light. It is very spacious too and has a very good quality zipper and zipper compartments in the case itself. Love the colour too.
Quality seems fantastic too – very impressed with material and zipper seems very secure. I am going to use it in a couple of weeks to travel to Perth!
Star Rating 5 excellent
Thank you so much, I have always wanted a lovely Billabong weekend case and feel so lucky.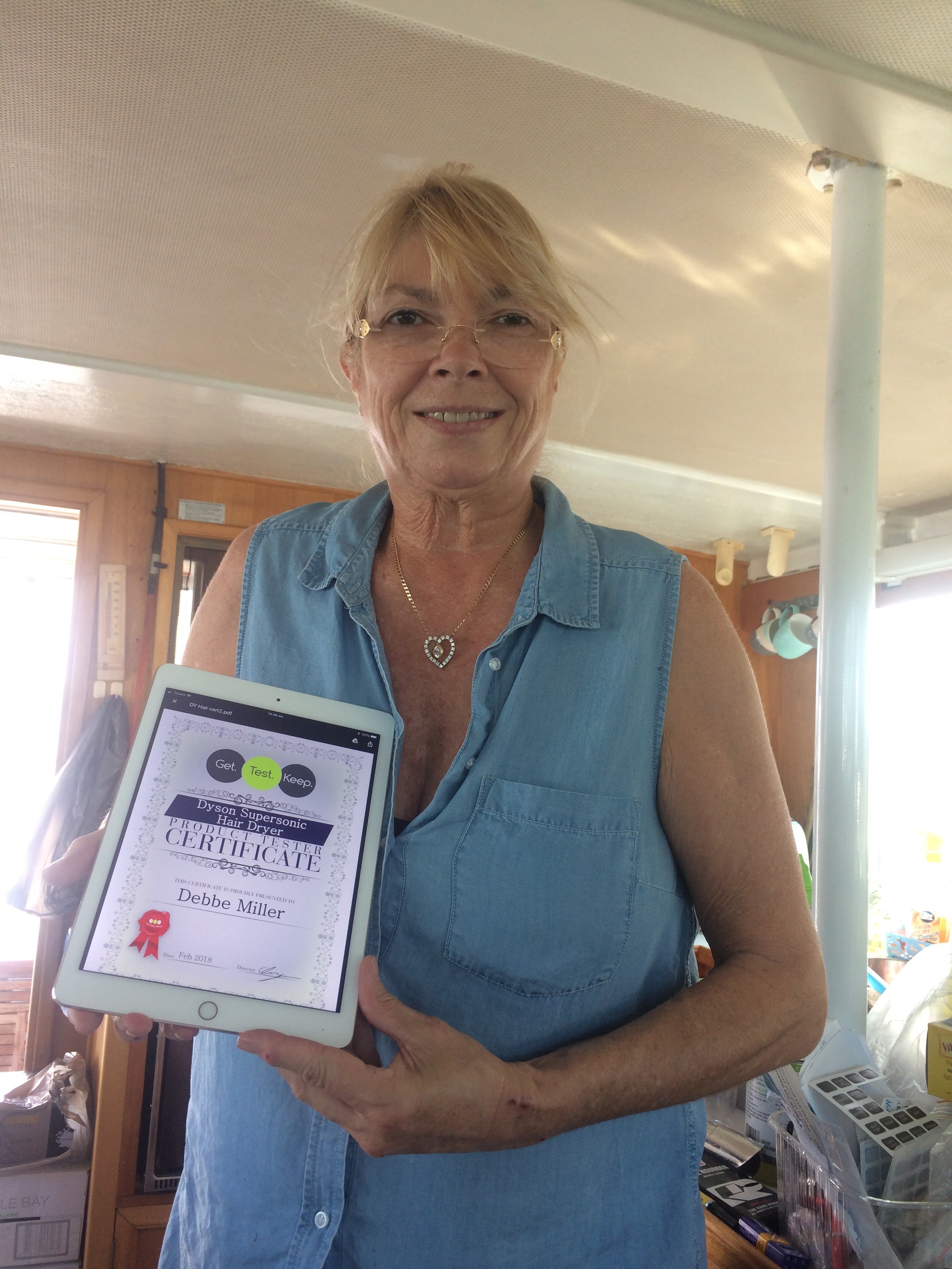 Dyson Supersonic Hair Dryer
Deborah Miller
12 Apr 2018
On my applying to test products, I received a very nice email from Tania Walker from the Get Test Keep Team accepting my application. Tania emailed me a couple of times to let me know what I was to be testing and what was required of me, I found everything to be very professional!
Tania recently emailed me to notify me that my testing product was on its way and to let her know on receiving it. The product was delivered to our closest Post Office and I collected it this morning, I then notified Tania immediately by email to let her know!
The Dyson Supersonic Hair Dryer was beautifully packaged as all Dyson products are, sealed in a lovely box and easy to take the pieces in and out of.
I found the instructions very easy to understand and the Dryer itself, state of the art! It's functions are very easy to use, I loved the magnetic hold for the different blowers and diffusers. Very easy to take on and off. I also really like the rubber mat to rest the dryer on between drying as I did find the barrel gets a little hot when handling.

I've had many dryers but this dryer was so much quicker and my hair was dried all the way through,
This product is first class and I'd recommend it to anyone
6 Rating this Dyson Supersonic Hair Dryer, from 1 to 5 Stars, I'm giving it
5 Stars for excellent!
On reflection, I like to thank the team for giving me this opportunity and it's always a great feeling to
Really admire the design and quality of this beautiful product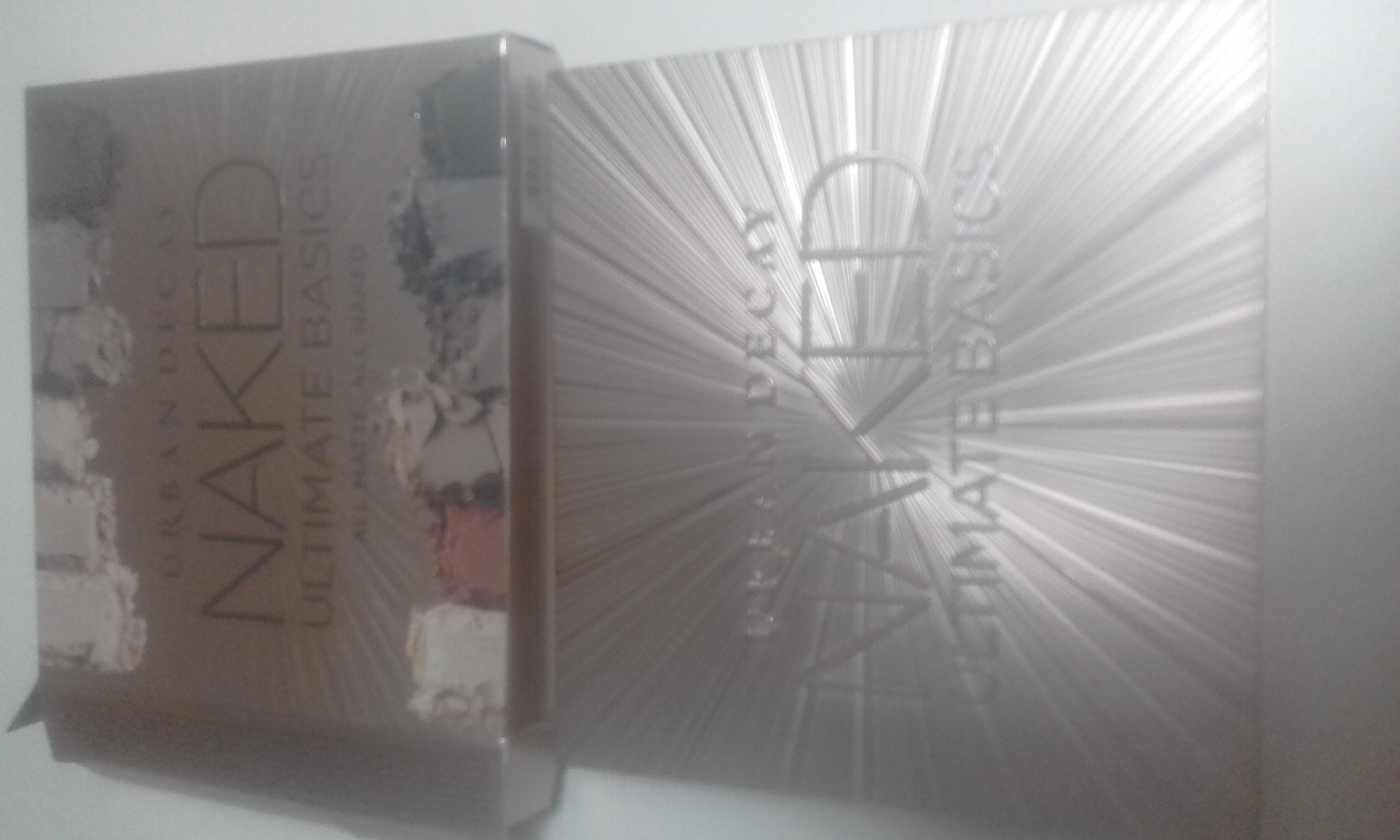 Urban Decay Palette
Shelley Garwood
11 Apr 2018
Well I was lucky enough to review the beautiful Urban Decay Palette. I received an email saying I'd been selected to trial and very quickly it was posted out to me. It came via registered post, so I signed and took the parcel inside. It came in a white bag which upon opening was wrapped in bubble paper so there was no damage to the product. Upon taking off the bubble wrap it was beautifully gift wrapped. So it travelled with the upmost care. The box it was in was beautifully presented but imagine my surprise when upon opening the box the pallet came as lookedon the box. I can't begin to tell you how gorgeous everyone's makeup table would look with this pallette....stunning comes to mind. It's not cheaply made or presented like alot of pallette out there it was beautiful. It's a heavy duty metal rose gold colored pallette with mainly nude colours, which comes with a nice size mirror on the top as it opens and a lovely soft application brush. I am in love with this product. I love the presentation all the way to how the colours work on me. It's my new favorite product that I will be telling everyone and anyone about. So easy to apply and blend the colours and the mirror is big enough to make it easy enough to see what your doing. Thank you so much for allowing me the opportunity to trial my new now favorite product.This is a must for every makeup goddess out there like myself. Thanks Urban Decay and thanks Get, Test, Keep. Super happy.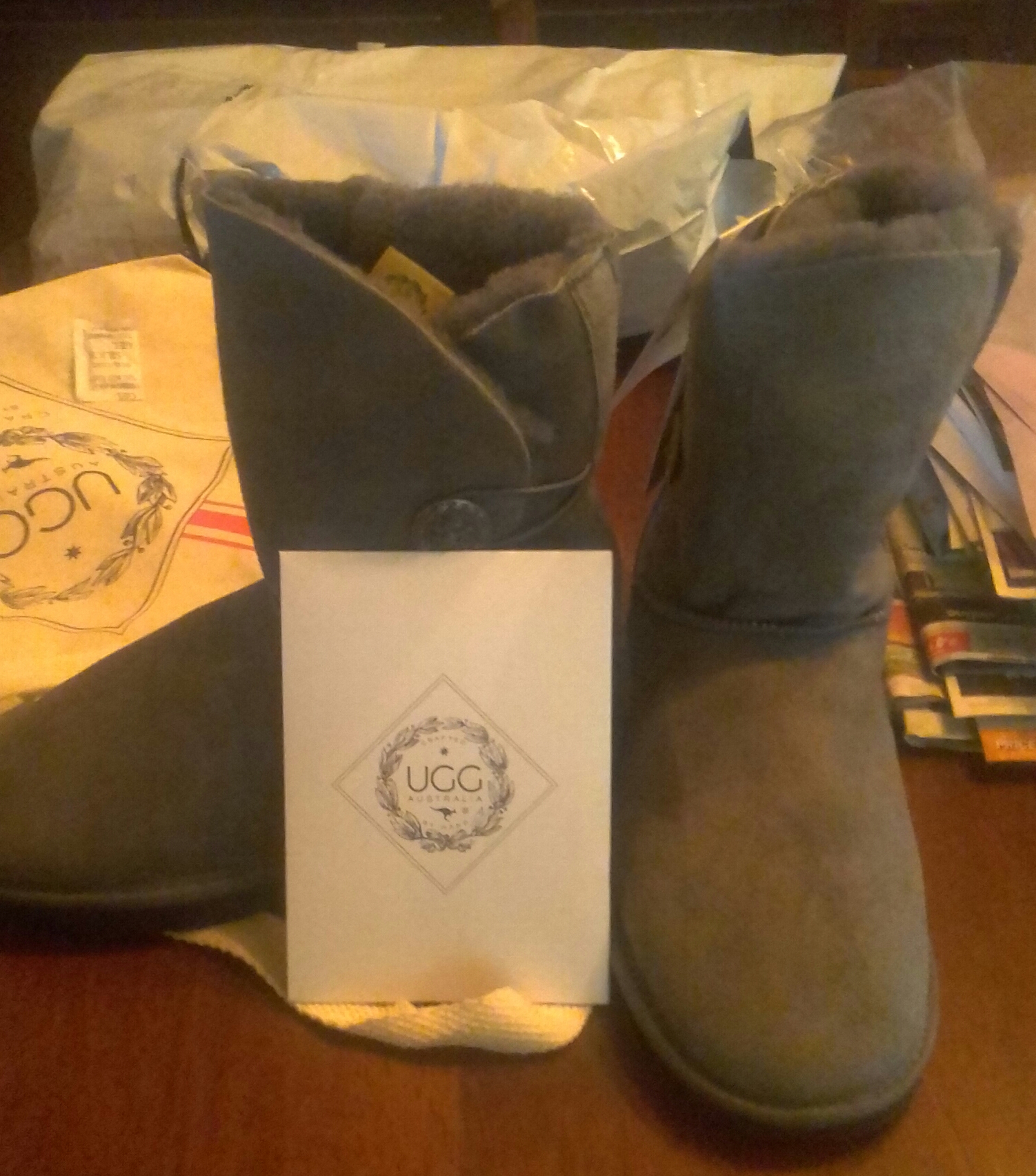 UGG Boots
Shelley Garwood
29 Nov 2017
How exciting, I received my prize of the Ugg Boots today and firstly I need to.comment about the prompt delivery. From the first notification that I had received this to test, try and keep, the delivery was basically done and dusted within a week. I signed for it as it came straight to my door and it was packaged nice and safe.
These are genuine Australian wool Ugg Boots, just what every guy or girl needs for the cooler months. They're made perfectly and they even came in the gorgeous little calico bag with Ugg written on it. There was a certificate of authenticity to show that they are the real deal and easy care directions so these can last for many years to come. Mine were grey with little badges on the side showing there is no expense spared in giving you an authentic, top quality product. They are extremely comfortable and I already know they will be perfect for keeping my feet warm in the cooler months that we get in Australia in our Winters. I have plans for wearing them bush when we go to visit family. The nights get extremely cold there and sometimes at least 2 pairs of warm woolen socks are needed just to make you warmer for those freezing nights. I've got the perfect size for me and they're just so comfortable I can't see myself ever wanting to take them off. I honestly couldn't be happier with these boots. I love them and now I know they're all quality and comfort I will make further purchases to and make sure everyone in my family gets a pair.
Thanks so much for choosing me to review these boots. I'm ecstatic and grateful. Regards Shelley Garwood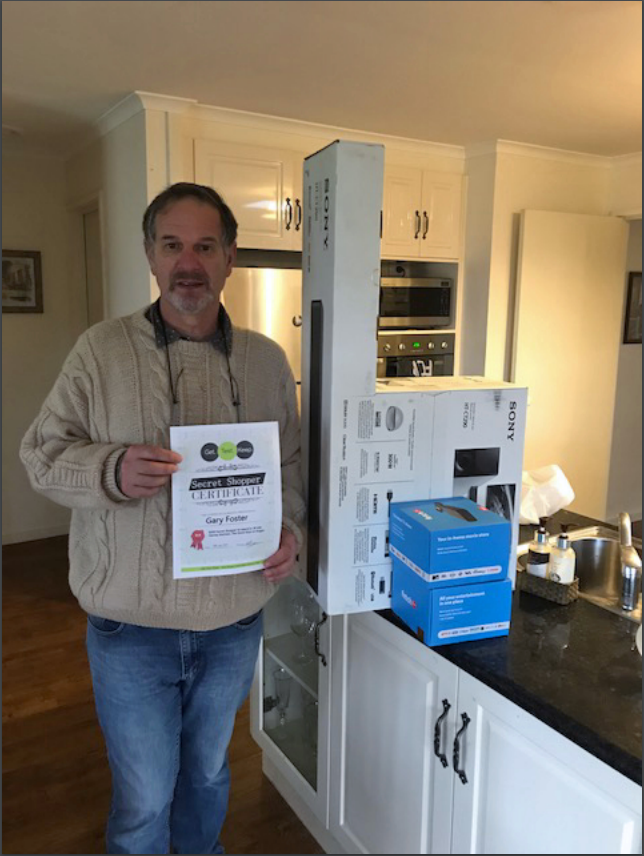 Harvey Norman Secret Shopper
Gary Foster
16 Aug 2017
Review of Harvey Noman, Morwell branch
The Items purchased from Harvey Norman, Morwell branch were 2 Fetch Mini St to boxes & a Sony 2.1 80 W Channel Sound Bar with Subwoofer.
The Communication I have received from the GetTestKeep team, & Specifically Tania Walker has been at all times courteous and informative. All communications regarding my selection as a reviewer & additional information have been through email.
In relation to the delivery of the above items, I chose to pick them up. The Harvey Norman Store in Morwell, Victoria was most helpful in relation to installation requirements & product selection. I would not hesitate in recommending this store to any potential customers.
The product packaging has been adequate for the protection of the items inside. In relation to the items, 2 fetch set top boxes & Sony sound bar, I find these items just fantastic for what they can do & deliver.
The Features of the Fetch set top box solve the riddle of where home entertainment is going. That is viewing movies & tv shows over the Net at a time of my choosing. My daughter said that, 'you don't need a DVD player anymore, you view everything on line.' I suppose that why I chose the fetch Set top box. The sound bar just compliments the experience on one of our existing tvs.
The quality of the items presented looks first class, although I won't know how long they last until they have received adequate usage.
Overall I would like to rate the Fetch Set Top Box & Sony Sound Bar with 5 Stars. That is for price, innovation & quality.
Thanks again Get Test Keep team & Tania Walker for the opportunity to test these wonderful products.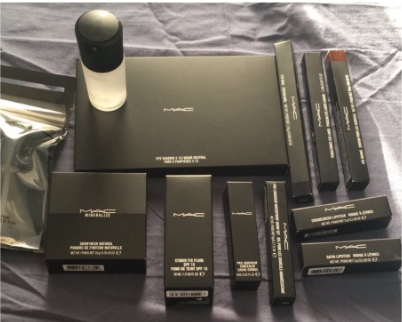 MAC Products
Rose Audrey
15 Aug 2017
I redeemed the MAC voucher of AUD$500 after I received it through my e-mail on the 15/8/2017, at one of the MAC shop in Carousel, Cannington on the 15/8/2017.

The packaging is good. The boxes are strong to protect the products and it is good for shipment purposes.


Performance of the products is superb. Most of my friends who is makeup artist uses MAC in fact they envy
me of getting this $500 voucher. I been using MAC product on myself ever since and will never change to othermake-up. Love it. The only thing that I don't like is I have to purchase the pump for the foundation.
MAC is so famous and if I mentioned to my customers I am using MAC product they are so happy and
confident of my work. So quality is again excellent 10/10.

I am giving MAC 5 stars.

This promotion is very good keep it up. For example like me never use MAC before got this opportunity to try MAC.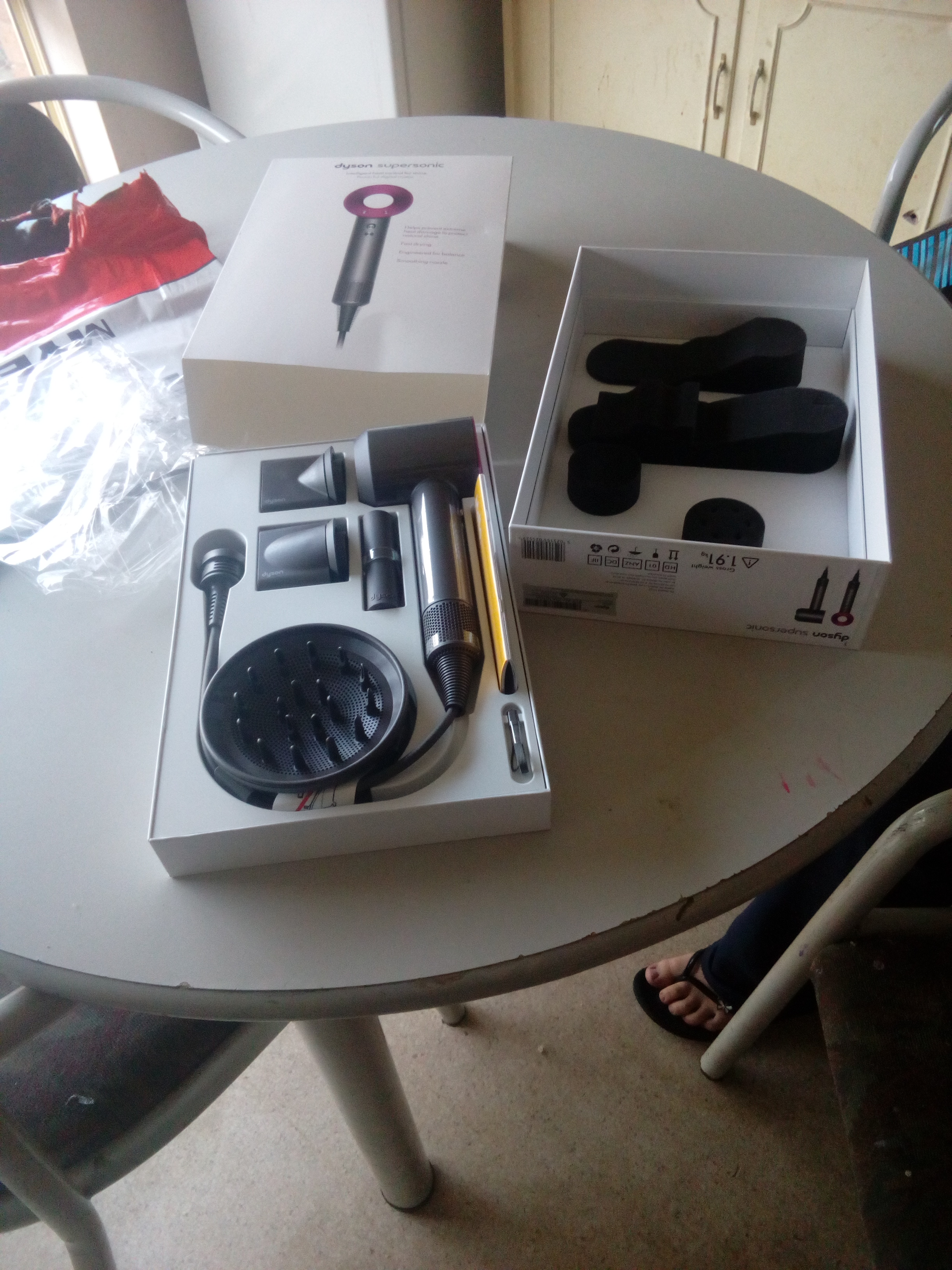 Dyson Supersonic Hair Dryer
Michelle Usher
20 Jul 2017
The Get Test Keep Team have been nothing but helpful. Tania Walker found a way around my problems & arranged for it to be delivered to me in Australia. 10/10 for Tania. My hairdryer was delivered in the afternoon of Thursday 20th July by Courier. It was well packaged in it's box with bubble wrap securely around it, inside a plastic mail bag. The cold shot is great, especially if you don't want a lot of heat. There's nothing bad I can report about this product, it's all thumbs up from me. The quality of this hairdryer is excellent!! 10/10 the best hairdryer I have ever used!! My summary of this product is a 5 star rating ~ Excellent. I have been really excited to test this product, hopefully I'm approved to test other products also. Thank you Get Test Keep for this awesome opportunity.